Free Traffic Packages
»
50,000 Guaranteed Visitors FREE
»
500,000 Mega Ad Credits
Opportunities
»
Internet Marketing For Newbies
»
Complete Home Biz Package
»
Make Money Every Day
»
Our BEST Programs
Products and Services
»
Make Money Online Reviews
»
Affiliate Marketing eBook Reviews
»
Top Keyword Spy Tools
»
Extreme Super Solos
»
Extreme Traffic Pack
Free Stuff
»
Business Building Tips Newsletter
»
Article Directory
»
FREE Classifieds
Contact Information
»
Social Network
»
Bill Darton
Webmaster
St. Catharines, Ontario
Canada
Brought To You By
Bill Darton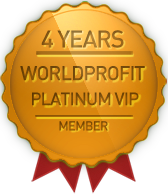 Published by: Bill Darton on 23-Sep-19
Why Worldprofit is the Key to earning online not just now -- but for YEARS to come
We are often asked, What is Worldprofit?
Simple question.
The answer more complex.
When Co-Founders (George Kosch and Sandi Hunter) started Worldprofit on a kitchen table in Edmonton, Alberta in 1994 they were a hosting company. They then started offering website design. They had a few customers. They grew, and grew some more, really fast. They had big ambition and perfect timing to take advantage of a new and exploding industry, the World Wide Web.
Here's some historical context. When they started Worldprofit in 1994, Google didn't exist, they didn't arrive for another 4 years in 1998.
When they submitted Worldprofit's website to be indexed for the first time to the main search engine - it was 1995 - it was Yahoo. Yahoo was a fledgling, an upstart so small they were on a first name basis with the team at Yahoo. Facebook was a latecomer not appearing on the scene until 2004. Ah the good old days. Fast forward to today, things have changed for us all. It's been an incredible ride!
Today, with over 2 million Members, Worldprofit has evolved into a comprehensive business platform, providing the tools, resources, training and support necessary for their Members to start and grow their own online business. They offer a unique Membership but all these years later, they still provide web site hosting, for one critical reason. They believe that having your own website, a domain based website is just as valuable today as it was 25 years ago. With your own website you have a home, a place of business - YOUR place of business. It's your online property. It's where you brand yourself and tie into your social media feeds. Your website is the CENTER of your business universe. The important factor being that it's YOUR site, not belonging to anyone else. It means when you promote your website address, it's professional, and you are promoting YOURSELF while building your own contacts and subscribers. Too many people underestimate the value of a website. The cost for a domain name, website hosting and design is minimal for the value you get for GROWING your business. Building your brand and growing your online property means investing in online real estate, that starts with your own domain based website. When you have your website you can easily integrate with your blog and all your social media content to expand what is to be your successful online business.
Worldprofit Members are provided with a website hosting AND business package along with resources we know to be essential based on our 25 years of experience. Their Members are from all walks of life, from all parts of the globe ranging from those wanting to earn a few extra dollars to people determined to earn a full time income from their online business. Worldprofit is NOT in the business opportunity industry, what they do is create and support online business owners. People who want to work for themselves promoting quality digital products and web-based services, people who want to learn about online marketing as they grow their business. In the same way that technology is quickly eliminating traditional jobs, Internet technologies and the sale of digital products is opening up endless jobs online and infinite opportunities. The key is to know what products to promote, how and where to market and advertise so you start with one sale that grows into many sales for YEARS to come as your business thrives.
At Worldprofit they recognize that their Members want to promote more than just Worldprofit's products and services - in fact - they don't just recognize this, they base their entire platform on providing resources and instruction to help you earn from multiple sources. Think BIG! It doesn't matter what affiliate program you are involved with you still need sources of quality traffic, ways to generate leads, methods to organize, automate and expand your business, a marketing system that is proven successful, training to save you time and frustration (and money) and importantly HELP and mentorship on your journey to success. You get all of this and more at Worldprofit.
You may be involved with any number of affiliate programs including ClickBank, JVZoo, network marketing programs, or affiliate marketing programs of your own choice. A key value of being a Worldprofit member lies in being part of a home business community, a network of people helping people all involved with affiliate marketing. Long ago Worldprofit understood that simply putting products and software into the hands of their Members wasn't enough. Training and support on how to use those resources was a critical component contributing to the success their members. Most people do not have a lot of technical skills, they are new to online marketing, support is essential. Since Worldprofit's success is based on the success of their Members, they realized it was paramount that Worldprofit create a comprehensive training program focused 100% on the business of affiliate marketing.
About 20 years ago, Worldprofit developed something unique, something unheard of at the time, they created their online Home Business and Affiliate marketing bootcamp, a series of online lessons complete with videos and LIVE weekly interactive training. George Kosch, CEO and Co-Founder of Worldprofit created the lessons based on his first hand experience and continues to this day as the Bootcamp Instructor, and Mentor for our Members. A a former Captain (Pilot) in the Royal Canadian Armed Forces, George incorporated that military style discipline into his training encouraging his students to follow the training, to learn then DO the work to get the results. When George Kosch left the Air Force in 1994 to start his own internet business, there was no handbook on how to do it, so everything George learned was from the school of hard knocks, drawing from his own successes and failures to learn what worked and what didn't. Building on that foundation, George, a self-taught software developer, created specialized tools and software available exclusively to Worldprofit Members. His goal was and continues to be to provide and teach our Members a sophisticated proven marketing system utilizing the software and resources included in Worldprofit's membership to start and grow their online business.
Out of the Bootcamp training arose a need to recognize those Worldprofit Members who progressed successfully through our training to achieve a certain level of status. Worldprofit offers two levels of achievement and recognition, the Certified Ebusiness Consultant (CEC) and the Masters Certified EBusiness Consultant (MCEC). Each level requires Members to meet certain criteria in order to achieve and maintain the status of CEC or MCEC. The basis of the program being that they felt it important that their Worldprofit Members have a certain level of familiarity and understanding about online marketing so that they can professionally help others as EBusiness Consultants.
Worldprofit is honoured that so many people around the world put their trust and confidence in them to receive the resources, training and support they need to take charge of their financial future, by making a decision to start their own online business.
Think Big. It all starts with one sale. Worldprofit provides you with everything you need to make that happen.
Worldprofit is your one-stop success shop.
Resource
Bill Darton is a Certified eBusiness Consultant at TriggerSuccess.com. Check out his website or blog anytime for marketing tips and a free subscription to our cutting edge newsletter.