Free Traffic Packages
»
50,000 Guaranteed Visitors FREE
»
500,000 Mega Ad Credits
Opportunities
»
Internet Marketing For Newbies
»
Complete Home Biz Package
»
Make Money Every Day
»
Our BEST Programs
Products and Services
»
Make Money Online Reviews
»
Affiliate Marketing eBook Reviews
»
Top Keyword Spy Tools
»
Extreme Super Solos
»
Extreme Traffic Pack
Free Stuff
»
Business Building Tips Newsletter
»
Article Directory
»
FREE Classifieds
Contact Information
»
Social Network
»
Bill Darton
Webmaster
St. Catharines, Ontario
Canada
Brought To You By
Bill Darton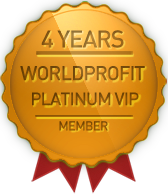 Published by: Bill Darton on 08-Dec-19
November TOP Sellers... and TOP Monitors!
Welcome to December! This is it, the final month of 2019. I wish you all the best throughout the Holiday Season and into the New Year.
Membership at Worldprofit has benefits beyond the obvious tangible ones such as tools, training and traffic. One such benefit is that George and Sandi also put out updates and messages that are posted in the member's area but they are only visible to upgraded Silver and Platinum members.
Just recently we received the monthly notice of the previous months Top Sellers and Top Monitors which I have included below. This is our proof that the Worldprofit system works. That it has worked. Is working. And, will continue to work for those who choose to study the training and follow through with action by actually using the Traffic, Tools and Resources included in your membership. In November I was privileged to be included on both lists; Top 10 Sellers and Top 20 Monitors.
The Top Sellers are the ones who are reaping what they sow. Any farmer understands, planting good seeds in good soil will bear good fruit. And so it is at Worldprofit. We refer new members (the seeds) to Worldprofit's system (the soil). Then, just as the farmer does, we use the tools to tend to the crop and continue training as we watch the seeds develop and grow into upgrades and sales (the fruit).
The Top Monitors are the ones who are tilling the soil. The Live Monitors are the ones who voluntarily give back to the community. We donate our time for nominal rewards yet we benefit from the sense of belonging to the larger community as well as the added insight, skills and knowledge we derive from the time we invest in Worldprofit's Live Business Center. When you log in at Worldprofit, please take a second to acknowledge the Live Monitor on duty by saying "Hello" and/or "Thanks" to them. Remember, they are there to help your referrals get off to a great start which ultimately helps you make sales.
Log into Worldprofit here:
http://www.TriggerSuccess.com/?rd=tj9qhPoM
Not a member of Worldprofit yet? Join Free Here:
http://www.TriggerSuccess.com/?rd=jc3vsyd4

In closing, I would invite you to start thinking about your future. As we approach the year 20/20, consider it a perfect time to create a clear vision of what Success means to you personally. Then use Worldprofit and your sponsor to achieve that success in your business.

As always, your partner in success,
Bill Darton
www.TriggerSuccess.com
www.TriggerSuccess.com/blog

www.Facebook.com/TriggerSuccess
www.Twitter.com/Trigger4Success
The following is the message from Worldprofit which I mentioned earlier;

Congratulations to our November Top Sellers
1. Italia or Linda Elze
2. Victor Walthour
3. Bruce Rae
4. Howard Martell
5. Rev. Annette Lacey
6. Todd McCart
7. Barbara Thuer
8. Bill Carr
9. Bill Darton
10. Brian Armstrong
Not on this list?
Want to be?
Do the training. Pay close attention to Lesson 3.
Master the basics of promotion in lesson 3 to earn in this program - or - ANY other affiliate program you are involved.
Promote. Promote. Then Promote some more.
When you promote, you generate Associate Members.
When your Associates login they are introduced to all the different services available at Worldprofit to help affiliate marketers grow their business.
When your Associate logs in, a member of our Worldprofit Monitor Team greets and helps those interested.
When an Associate you referred makes a purchase, you get the commission as their Sponsor.
A powerful system that is ONLY available at Worldprofit thanks to the volunteer efforts of our Monitor Team.
Does it work? You can bet your Christmas stocking it does!
A BIG SHOUT out to... and a HEAP of appreciation to our TOP Monitors as listed by sales over the last 30 days
Linda Paulk
Rheal Charette
Rev. Annette Lacey
Linda Elze
Bruce Rae PhD
Bobbi Nichols
Tania Vick
William Elder Buck
Ivy Brinson
Olummy Idowu
Anthony Slate
Emil Basista
Brian Armstrong
Lee Shaw
Jim Finch
Lisa Martiniuk
Howard Martell
Michel Haddad
Bill Darton