Free Traffic Packages
»
50,000 Guaranteed Visitors FREE
»
500,000 Mega Ad Credits
Opportunities
»
Certified eBusiness Consultant
»
Complete Home Biz Package
Products and Services
»
Make Money Online Reviews
»
Affiliate Marketing eBook Reviews
»
Top Keyword Spy Tools
»
Extreme Super Solos
»
Extreme Traffic Pack
»
PLR & eBook Store
Free Stuff
»
Business Building Tips Newsletter
»
FREE Classifieds
»
Article Directory
Training
»
Internet Marketing For Newbies
»
30 Minute List Challenge
»
Ultimate List Building Tactics
Contact Information
»
Live Meeting Center
»
Bill Darton
Webmaster
St. Catharines, Ontario
Canada
»
Social Network
Brought To You By
Bill Darton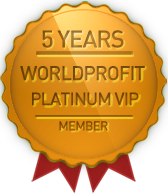 Published by: Bill Darton on 19-Nov-21
Where Will You Stand On The Last Day
.
Some people excel while others exist.
You are a product of your daily habits. Nobody else can define you. Not the government. Not your parents. Not your 3rd grade teacher.
On the right hand side of your Worldprofit member's area you will see the Top Sellers list for the current month. These are the people who are excelling. They do not merely exist in their business. They build their business on purpose, with purpose.
Each and every month there will be familiar names on the list and their will be new names on the list. But there are only 20 spots available. Some persist while others come and go. Which will you be? Flash in the pan? Or, here to stay?
As for me, as I write this, I am in the number 10 spot! Yay for me! It's the 19th of the month and I don't know where I will be on the final day of the month. In September 2021, I was #1 - you can see that in the blue panel on the left hand side of the member's area.
No way for me to control what others do. But I continue to strive, excel and persist. Sometimes I am up. Sometimes I am down. But, almost always, I find my way onto the list before the month is over.
So, that leads to the question...
How Do YOU Get On The List?
The secret is revealed on the list itself! As you can see, most, if not all, are showing either CEC or MCEC beside their name. That means these people are producing results by actually doing what Worldprofit teaches.
CEC means that the member has become a Graduate of Worldprofit's Bootcamp Training and they become a Certified eBusiness Consultant (CEC).

To attain CEC status a member must:
1. Be a Silver or Platinum Dealer at Worldprofit
2. Complete the first eight lessons in the bootcamp training
3. Personally sponsor at least 25 new Worldprofit Associates
4. Have at least one Associate who upgrades to Silver Dealer.
Just qualify on time and your CEC status stays with you for as long as you are a Silver or Platinum Dealer
MCEC means that the CEC member continues to excel and persist on a 30 day basis.
To attain MCEC status a member must:
1. Be a Silver or Platinum Dealer at Worldprofit
2. Sponsor at least 25 new Associates
3. Have at least TWO new Silver Dealer upgrades WITHIN any 30 Day Period.
If you attain MCEC status and you do not qualify within the next 30 days, your status will revert to CEC and you will need to requalify within a 30 day period to reinstate your MCEC status.

My personal mission is to help as many people as possible to get on the leaderboard. The truth is, I can't force anyone to do it. Nor do I want to. A person convinced against their will, is of the same opinion still. You have to want to do it for yourself. In which case, I am here to help you.
Log into the Worldprofit member's area (or join free) and go to the Live Business Center (on the Home Page) and one of our Live Monitors will be available to assist you 24/7 and answer all your questions.
Already A Member? Login Here: https://www.TriggerSuccess.com/?rd=tj9qhPoM
Not A Member Yet? Join Free Here: https://www.TriggerSuccess.com/?rd=jc3vsyd4