Free Traffic Packages
»
50,000 Guaranteed Visitors FREE
»
500,000 Mega Ad Credits
Opportunities
»
Certified eBusiness Consultant
»
Complete Home Biz Package
Products and Services
»
Make Money Online Reviews
»
Affiliate Marketing eBook Reviews
»
Top Keyword Spy Tools
»
Extreme Super Solos
»
Extreme Traffic Pack
»
PLR & eBook Store
Free Stuff
»
Business Building Tips Newsletter
»
FREE Classifieds
»
Article Directory
Training
»
Internet Marketing For Newbies
»
30 Minute List Challenge
»
Ultimate List Building Tactics
Contact Information
»
Live Meeting Center
»
Bill Darton
Webmaster
St. Catharines, Ontario
Canada
»
Social Network
Brought To You By
Bill Darton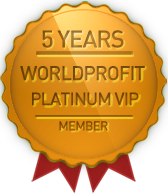 Published by: Bill Darton on 14-Aug-20
Lesson 112: Multi-Commission System
This lesson introduces you to....
Worldprofit's Multi-Commission System
What it is:
It's a powerful way for Worldprofit Members to EARN MORE commission - from MORE sources - 18 more sources to be exact.

Set up is FAST - takes only a few clicks.

NO COST to participate in Worldprofit's Multi Commission System.

Free Associate Members, Silver Members, Platinum VIP Members can all take part and start earning commission for sales referrals.

This system is ONLY available at Worldprofit; we built it, we own and operate all 18 sites so we provide all security, support and training.
How YOU benefit...
What does EVERY affiliate marketer in the world need? Trusted, effective TARGETED advertising.
Now you can promote this service and give hungry affiliate marketers exactly what they need - all from one trusted source - Worldprofit.
As a SILVER or Platinum VIP Member you earn commission whenever your Associates upgrades at any (or all) Worldprofit's 18 Traffic sites.
Associates Members earn 5% on sales referrals; Silver members get 20%; Platinum VIP Members get 40%.
Commission earnings will be added to your monthly commission report in your Worldprofit Member area.
Pick your payout preference: PayPal; Solid Trust Pay, Bitcoin, Check, Direct Deposit (US Residents), Electronic Funds Transfer (Canadians)
How to get started.
Access the Multi-Commission System in your Member area on LEFT MENU under MONEY MAKERS and select Multi-Commission System.
WATCH THE HELP VIDEO in that section for complete details.
1. Sign up and ACTIVATE your account at the 18 Traffic Sites. We've made this FAST and EASY to do.
If you've already signed up at some or all of the 18 Traffic sites, great - but you still need to ACTIVATE each account.
2.Once you've signed up and activated your accounts at the 18 traffic sites, that's it! All that is left is to start promoting.
Locate your promotion links in the system, and start posting anywhere you like, Facebook, your Blog, in articles, do a product review, record a video. The more places you promote the better..
-> Watch the Overview and Help Video.
You are going to need to get your activation emails in order to use this system.
Make sure our email to you is not ending up in your spam folder.
White list all emails from Worldprofit. If you are using any other email other then GMAIL, get a Gmail account for the most reliable email delivery.

If you're not yet a member of Worldprofit, you are definitely missing out on these 18 additional traffic and income sources. Join free now and get your questions answered. Live agents are standing by to assist you. https://www.TriggerSuccess.com/?rd=ya6xlTUS
Resource
Bill Darton is a Certified eBusiness Consultant and the Owner of http://TriggerSuccess.com. Check us out anytime for marketing tips and a free subscription to our cutting edge newsletter.